The Cape Coral Cruise Club enjoyed the beautiful Naples Boat Club for their September cruise on the 16th, 17th and 18th. Fourteen boats signed up for the cruise but two had to drop out – one for a mechanical issue and one for an emergency home repair issue. This is the third year in a row the September cruise has been to the Naples Boat Club, which speaks volumes about its helpful staff, great amenities and convenient location to Naples shops and restaurants.
The 12 boats that participated were "MOONLIGHTER", Cruise Leaders Lee & Benda Jetton with members Mike & Brenda Stewart aboard – "PANACEA", John & Mary Brehm – "Y KNOT", Phil & Pat Kryger – "WHATEVER", Jim & Edie Limbright – "SURFACE INTERVAL", Bruce & Sue Longman – "DESPERADO", John Lynch & Elise Vinnoy – "BULLFROG", Mac and Bobbie McEwen – "HAR DEE II", Hal & Dee Moss – "C R SIDE", Bob & Carol Peterson – "SEMPER PARATUS", John & Pati Queen – "SUNKISSED", Phil & Lyn Quick – and "HAPPY OURS", Gary & Kathy Taake.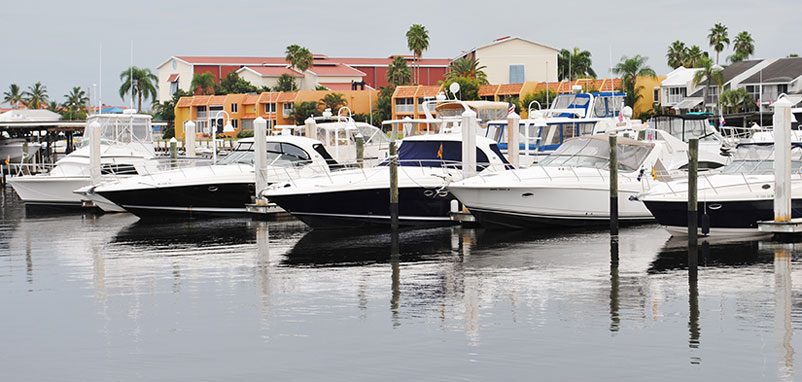 The winds and seas were almost perfect on Tuesday for the cruise down the Gulf of Mexico to Gordon Pass and on to Naples Boat Club. After docking, it was time for enjoying the pool with its waterfall, cards, a game of pool in the beautiful Clubhouse, or just relaxing aboard. At 5:00 pm it was time for happy hour with snacks in the Clubhouse, followed at 6:00 pm by a catered dinner of Chicken Stir Fry with rice, oriental salad, rolls & butter and a variety of different cakes for dessert. After a long cruise from Cape Coral, the catered dinner meant that none of the ladies would have to cook and could join in the fun after docking.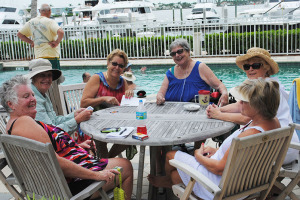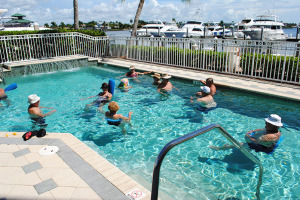 Wednesday was a morning and early afternoon open for shopping, exploring Naples, breakfast or lunch aboard or at a nearby restaurant, enjoying the pool, or games in the Clubhouse. Although there had been some rain, at 2:00 pm the sun came out and everyone met in the swimming pool for a Yellow Rubber Duck Race. First the men, and then the ladies, were divided up into two groups of 6 in the pool. Each person was given a yellow rubber duck. The object of the game was, on a signal, to drop your duck in front of you and propel it to the other side of the pool only by pushing it with your nose or blowing it. After two runoffs, the winners were determined.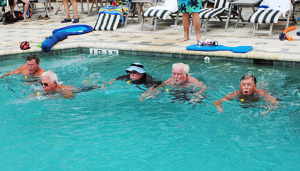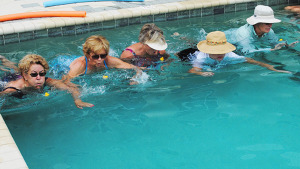 The first prize winner for the men was John Queen, who won not a yellow duck but a bottle of Grey Goose, and second place went to Mac McEwen who won, in a Victoria's Secret bag, not skimpy attire but a key with a small knife hidden inside. On the ladies side, first place went to Edie Limbright, who won, fittingly enough, a bottle of Ugly Duckling wine, and second place went to Carol Peterson who won a pair of scissors. Everyone who participated had a barrel of laughs and were good sports to participate. Prizes were awarded at happy hour.
Following happy hour at 4:30 pm, the entire group, joined by members Steve and Nell Winner who had driven down, walked to downtown Naples to the Mangrove Café for a $35.00 special of 2 dinners with salad, bread, and a bottle of wine. Everyone reported a great meal with fast and efficient service. Hats off to the Mangrove Café for a wonderful dining experience.
Thursday morning was again a free morning and early afternoon to enjoy Naples. Some members enjoyed Tin City, breakfast at the Cove Inn, shopping, games, or playing pool in the Clubhouse. As before, rain was a bit of an issue, but dissipated at 2:00 pm for the second yellow rubber duck contest at the pool. In this contest, no one had to get in the pool, as everyone drew a card with a number on it. Each yellow rubber duck also had a number painted on it matching the numbers drawn. Then, all the numbered ducks were dumped into the pool at the waterfall end and were pushed by wind and current to the other end of the pool. Some ducks floated straight to the other end, some did a U-turn, some floated to the sides and one even went into the pool scupper. Everyone cheered on their duck until winners were declared.
The owner of the winning duck was Bobbie McEwen who won a box of Double Dog Dare wine. The second place duck was owned by Jon Lynch, who won a set of funnels, and the third place duck was owned by Lyn Quick who won a pair of scissors.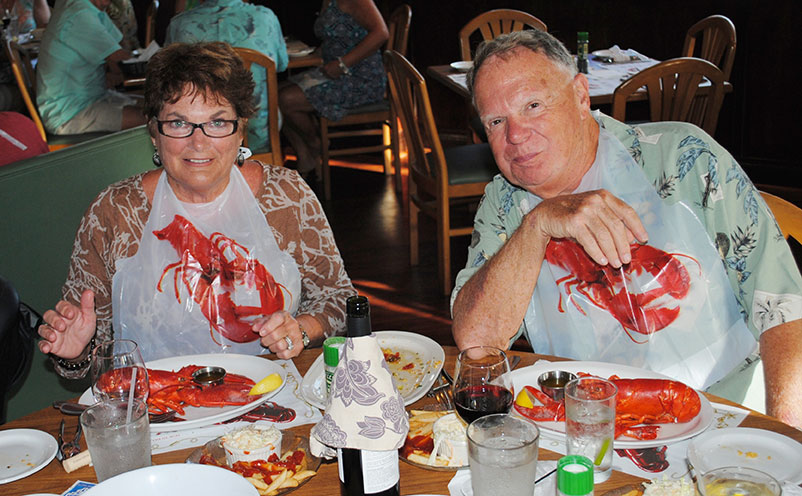 At 4:30, happy hour with snacks was held in the clubhouse where the above prizes were awarded. Gary Taake prepared Oysters Rockefeller, and Phil Kryger prepared fresh caught fried Fish Bites to add to the snacks. Then, at 6:00 pm, everyone walked to the on-site Wharf Tavern for a group seafood dinner, highlighted by a $15.99 1 ¼ pound whole steamed Maine lobster dinner with fries and slaw. Once again, the Wharf Tavern made every bib attired member happy with lots of drawn butter to dip juicy lobster into. No one left hungry. Following dinner, the left over cakes were served in the Clubhouse along with a delicious Mango cobbler made by Edie Limbright. Those who still had room for dessert enjoyed the sweet feast.
Friday morning members left in small groups for the trip back to Cape Coral and Fort Myers. Once again, light seas with only occasional periods of scattered rain made for a safe and very comfortable cruise home. Thanks go to everyone who participated in the cruise, as a cruise cannot be successful without members participating. Thanks also go to the Naples Boat Club staff for their courtesy, assistance, and professionalism.
The Cape Coral Cruise Club is open to new members who own a boat with overnight accommodations and reside in the Cape Coral / Ft. Myers area. For membership information please contact Larry Mitchell at 239-560-2823. View a short picture video of recent Club activities and read additional Club information on its website, www.c-c-c-c.org. Like us on our Facebook page.
By Lee Jetton