Just finished one of those long weekends that you really wish would go on for several more days (or weeks!). My family had the good fortune of being invited to spend a few days with friends at their house on Blackwater Sound in Key Largo. What a spot!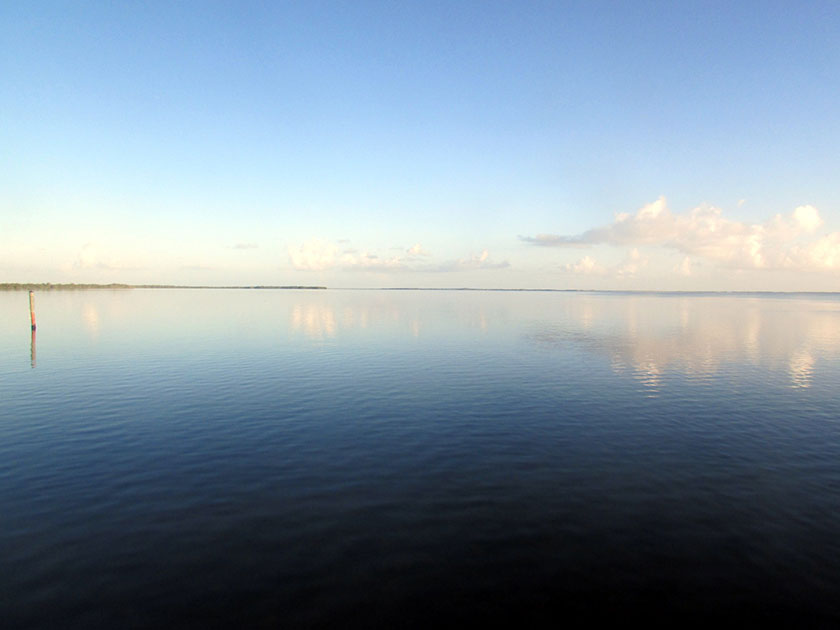 Sitting with a cup of coffee on the dock in the early morning, before the heat of the day kicked in, and looking out over the quiet sound while most were still sleeping off the night before, was just spectacular. Herons working the shoreline, frigate birds circling overhead and a school of about eight tarpon rolling and literally swimming by under my feet. I'm too relaxed to even think of grabbing a nearby rod. Maybe as you get a little older your focus changes but I could not help but think that those still snoozing were missing the most beautiful time of day (until perhaps we get to the sunset!).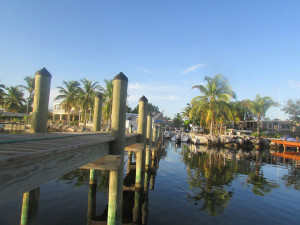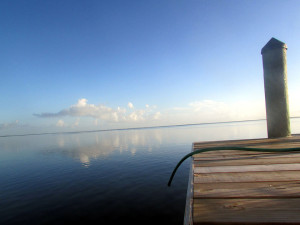 This was not planned as a hard core fishing weekend and it was a little too windy for a run offshore with kids and wives but the beauty of the area is that there are always plenty of other fishing options. Before long Aaron, our host, my son Kyle and I were headed across the sound and through a beautiful mangrove canal into Florida Bay. Still pretty windy and not the greatest fishing conditions but for someone who doesn't get to enjoy these waters on a regular basis, just being out and polling in the shallows along magnificent mangroves made the fishing somewhat secondary.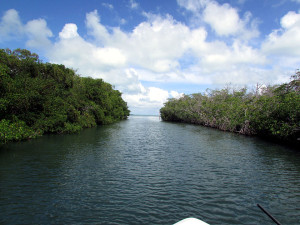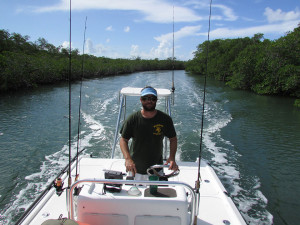 Aaron avoided beating us up heading home across the bay by a little longer run through a different mangrove canal, then across Long Sound and Little Blackwater Sound. If you are familiar with the 18 mile stretch of U.S. 1 from Florida City to Key Largo, these are the bodies of water you first see on your right as you approach the bridge at Jewfish Creek. From there we ran into Blackwater Sound, past Jewfish Creek (no we did not stop at Gilberts!) and back to the dock. Just in time for lunch and a cold beer.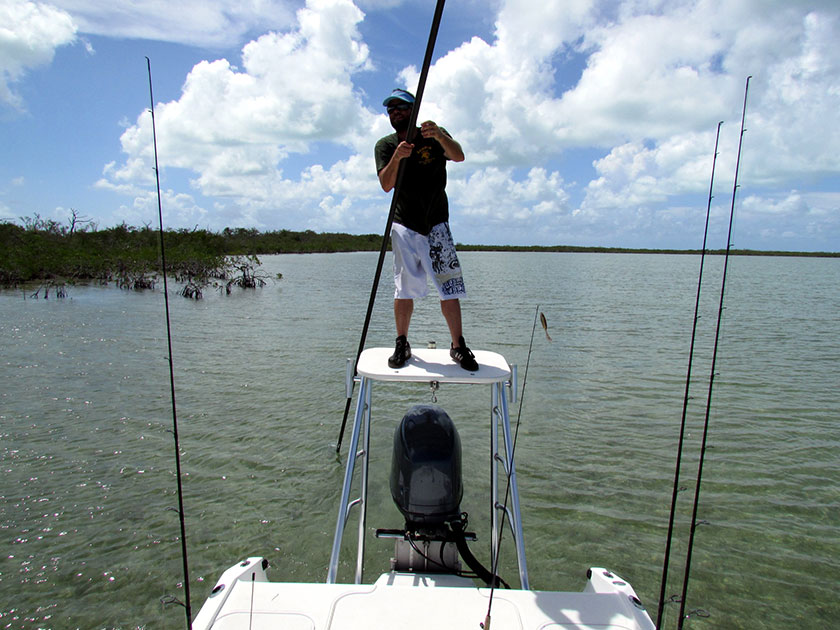 Then we pile the whole gang into two boats and head back across the Sound to a great shallow anchorage and beach. Ladies, kids, dogs, cold beers, "boat" drinks and serious relaxation. As busy as that area of Key Largo can be, we were completely alone. Can it get any better than this?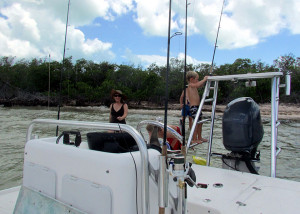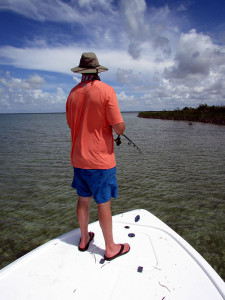 Yes, it can!! Back at the dock, just hangin' out when Aaron comes out with a block of chum and a bucket of live shrimp. Another 5 minute run across the sound to his "can't miss" mangrove snapper hole. The wind was still getting in the way but the kids had a great time catching a load of little mangroves and we had enough keepers to chow down a little later on Aaron's Key Largo smoked fish dip.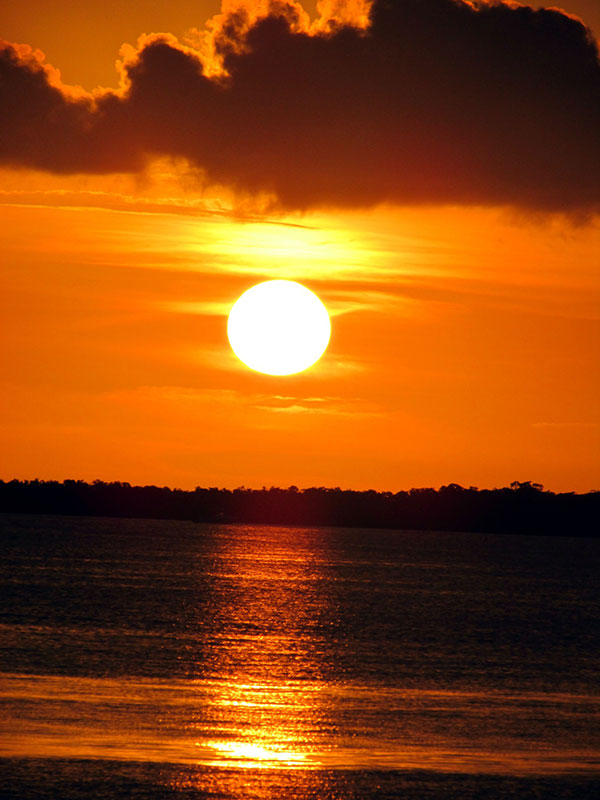 And just to close out the perfect boating day, how about fresh fish dip, the perfect rum drink, and as magnificent a sunset as you will ever see. I know it can't get any better than that!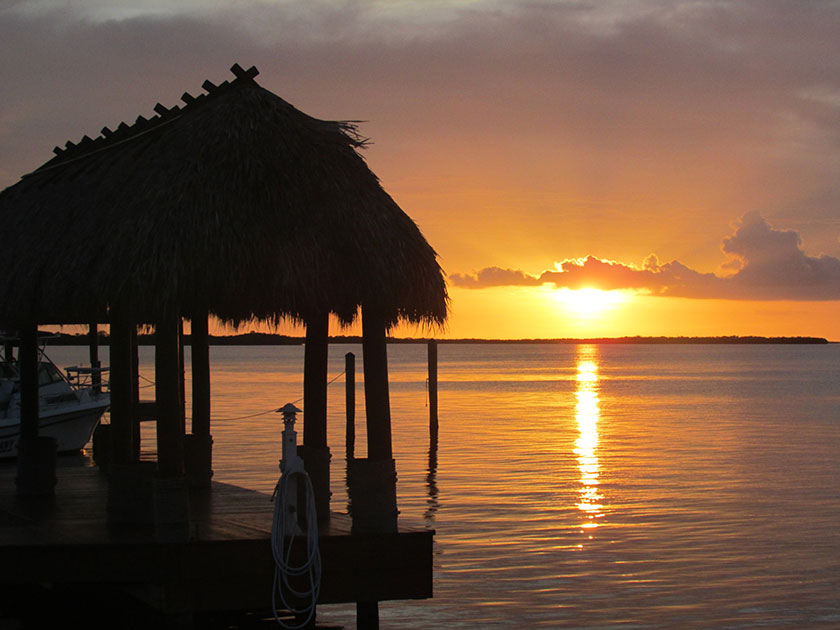 It really was a great day. Spending time with family and close friends is special no matter where you are. But as I write this I realize just how incredibly lucky we are to have these kinds of water so available to boaters in Southwest Florida. Yes, it was great to be in Key Largo, but the reality is, this kind of day, these kinds of waters, and that beautiful sunset can be found anywhere from Tampa Bay, through Sarasota, Fort Myers, Naples and the Keys.
Inshore, Offshore, Islands, Mangroves, Flats, Beaches. Big boats, little boats, new boats, old boats. Doesn't matter. As long as it floats and can get me from here to there, count me in. Can't wait 'till that next perfect day on the water!
By John Good