(Ft. Myers Beach to Charlotte Harbor) Despite the cool fronts and variable winds the fish have remained active at certain times of the day. It has been difficult to determine as to when to schedule some of the charters, as the fish are sometimes more active early morning as opposed to letting the sun and temperature warm up the 'flats' at midday. However, the facts are that they must eat, but the questions remain; when, where and at what depths?
Recently, I had the opportunity to take out some of my 'favorite' clients; Chad and Joy Wolney of Buffalo, Minnesota. Joy is a member of the Buffalo Wild Wings corporate management team. Last year I had the pleasure to 'captain' a fishing charter with members of that elite group, including Joy and her husband, Chad. We all had a great time. Needless to say, I was honored when they called me a few weeks ago to schedule a family charter, which included Chad's mother and father, Vicki and Jim Wolney of Sauk Rapids, Minnesota.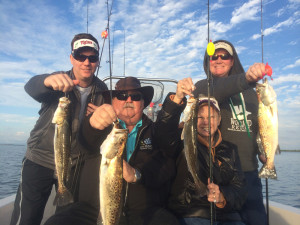 Ironically, Vicki had never done much fishing, but before that day was over, we all concluded that she was not only the 'most improved angler', but probably caught more and bigger fish than all 'onboard' (including the 'captain')! Pictured here is the Wolney family with Seatrout caught that very 'cool' day. The bite was so strong that we had to return to dock to get more baits. Congratulations Vicki!
On the 'cold' days, I have been finding fish on the grass flats in five (5) to six (6) feet of water. The water temperature is now around 68 degrees (F), keeping the fish down. Snook, Redfish, Sheeps head, Spanish Mackerel are all active on a moving water. Triple Tails are beginning to show up along the buoys, offshore. Big Snook and Redfish are deeper. Snook will be found in the canals, around the deeper island 'cuts' and on hard bottom structure. The waters are clear, so stealth is the 'order of the day'. Shrimp, live and cut Pinfish are probably still one's best bet for any of the species. Angler's presenting artificial baits might consider slowing down the presentations. Be patient, as it is 'winter'. If and when fish are found, the bite could be good.
This is Captain Terry Fisher wishing you a great day of fishing! Fishing reports and charter information may be found at www.fishfacecharters.com. I am easily reached at 239-357-6829 or via email at fishfacecharters@yahoo.com with any questions or requests.