(Ft. Myers Beach to Charlotte Harbor) Even though the New Year brought with it plenty of rain and gusty winds throughout our region, several 'die hard' anglers braved the elements in search of fish. I had the pleasure of fishing with many new clients shortly after the New Year and they were all successful in catching plenty of fish. Most impressive were youthful anglers determined to fish regardless of the conditions. Pictured here is ten (10) year old William Cawdrey of Cincinnati, Ohio proudly displaying just one of many Seatrout he caught over a two (2) day period of fishing the 'flats'. His brother Timothy, only fourteen (14) and good friend Harrison Rodgers, only thirteen (13), proudly poses with Spanish Mackerel they caught. All three junior anglers showed exceptional abilities to handle whatever species decided to 'take the bait'. They were all kept busy catching Crevalle Jacks, Ladyfish and lots of Seatrout on both charter days.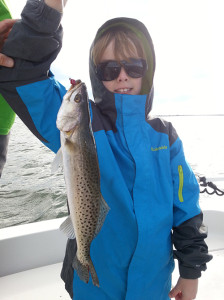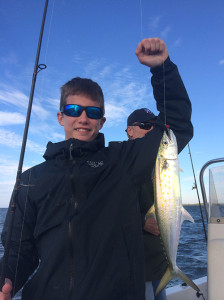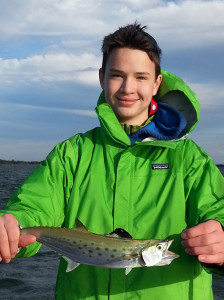 Another exceptional junior angler is Matthew Izzo (13), of Downingtown, Pennslyvania. Matthew is shown with one of many big Seatrout he caught in Pine Island sound during a half day charter. His father, Chris Izzo is pictured alongside his son while holding a nice Seatrout he caught. The day made for a great experience for both father and son as they caught lots of big Seatrout and other species. I am looking forward to the opportunity to take all of them out next year in search of their 'fish of a lifetime'.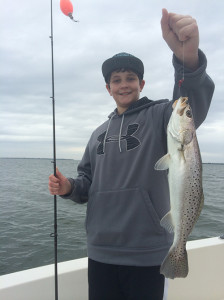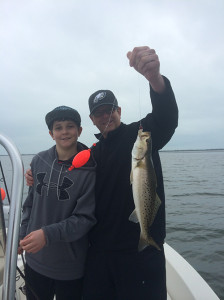 Fishing should continue to be productive with the 'full moon on the horizon'. However, the cool front will make some parts of the day less likely to produce. I suggest going early morning for the better chances of big Seatrout, as warmer parts of the day have recently proven 'less' productive. Snook and Redfish are still active but hard to find due to the 'skinny' waters. Proven locations will still produce so long as the tide levels provide sufficient depth for the fish to get close to and under the mangroves; otherwise the fish will be elsewhere. Sheepshead and Mangrove Snappers are active most any part of the day, but my pleasure is early morning. Small bait hooks, 'tipped' with a nice piece of shrimp should get one a meal.
This is Captain Terry Fisher offering these tips for better days on the water. Check out my website at www.fishfacecharters.com for more fishing reports, articles and charter information. Email me at fishfacecharters@yahoo.com or call me at 239-357-6829 with any questions or to book a charter.