A few years ago there was a recall on cetain thru hull fittings. We were ready to haul the boat that needed to have all the thru hull fittings replaced and the skipper suggested that the thru hull fittings did not really look bad. I tried to open the macerator thru hull fitting, knowing that it was the one that was least used. The thru hull broke and I had a ball valve in my hand. I yelled to our hoist operator that it was time to haul the boat. I was able to hold a rag over the 1" opening until the boat was hauled. Needless to say, there was no dispute that they all had to be replaced.
I remember in the 70's and 80's we had many boats that had gate valves. ABYC outlawed them, since the handles and more important the stems of the handles had a tendency to break. As we all know, these events happen in the worst circumstances. I very seldom come across a gate valve, and when I do, the skipper knows that it is one safety issue that needs to be resolved.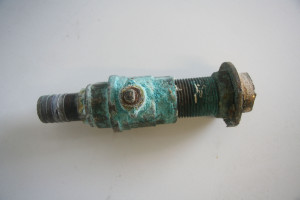 It is very important to maintain your ball valves and it is very wise to open and close your thru hulls periodically to make sure they open and close as they should. You should also lubricate them, which is best done when the boat is out of the water. You can check the thru hulls first when scraping the paint from the metal and if it looks golden and not pink, it is in good shape. If the metal is pink, the thru hull fitting should be replaced immediately, since the metal has no strength and is ready to fail.
One easy way to do this is to spray a PTFE type lubricant up into the thru hull when the ball valve is open and also spray the handle area the day before (this can be done in the water). It is important to open and close the ball valves a few times to make sure they work smoothly. You should be able to open and close your thru hull valves with your hands without using tools.
When you do have to change out the thru hulls of your boat, you should also consider changing out the hoses attached to the valves. In many cases the hose will break when you try to remove it from the valve fittings, which is a signal that the hose is deteriorated to the point that it can become a major safety issue.
When you have work done on the bottom of your boat at the Sailor's Wharf, we will bring these type of issues to you attention; if you go to another yard, request that they, or you, take a good look at what is under the hull…. it may save your boat!
Written by: J. Jopie Helsen, www.sailorswharf.com