(Ft. Myers Beach to Charlotte Harbor) Last week was fantastic fishing for Redfish, Snook and Seatrout. I prefer fishing the northern half (Redfish Pass to Charlotte Harbor)  as well as the back waters of Matlacha Pass in light of the high tannin water influxes at the mouth of the Caloosahatchee River. The water is much clearer up there with plenty of Pilchards available to cast to. Pilchards have been the 'bait of choice' for me and most of the other captains that I have talked with. I have had lesser success with artificial, live shrimp and cut baits.
Pictured here is Kristen Mory of St. Petersburg, Fl. with a nice Snook she took on a live Pilchard after chumming up the area. Her friends, Emily and Cornelia of St. Petersburg are pictured here with their fish as well. Cornelia had to boat her Redfish by hand when the reel malfunctioned on the retrieve. These ladies were a pleasure to fish and I enjoyed watching all three prove their angling expertise on a number of occasions that day! Nice going ladies!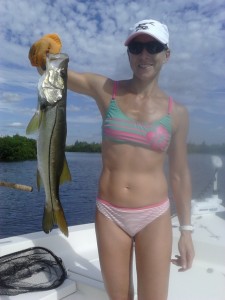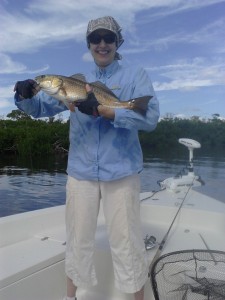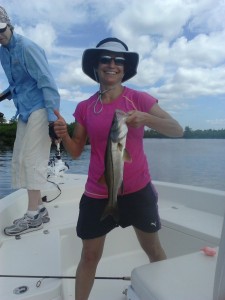 Moreover, I had the pleasure of fishing a wedding party from Tarpon Lodge at Pineland last week. Ms. Sammi Willis (the bride), is pictured here with her Seatrout. Her brother (Brandon Willis together with father) is shown with his nice 'slot' Snook of 28 inches, while the 'father of the bride', Bill Willis, shows off a nice Redfish. Congratulations to Seth Wadas and his 'Bride', Sammi on their marriage.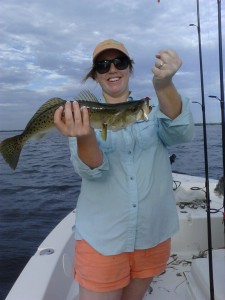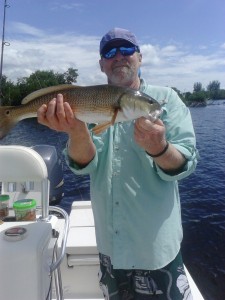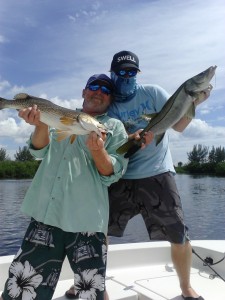 This week should continue to produce great fishing for Snook, Redfish and other species alike. Mackerel and Triple Tail along with grouper are all available and closer to shore. They are all active. I wake up every morning ready to go and capitalize on the October Redfish and Snook action that awaits most any angler. I am still available for charters during some of the October days for anyone that wants to get in on the action. Call me at 239-357-6829 or email me at fishfacecharters@yahoo.com. Check out my website at www.fishfacecharters.com for complete information and more fishing reports.