Whenever we needed a name for a pet, boat or a project; David Bickel of The Shipwright Shop had always said, "The object will name itself!"  But in this special case, from the beginning was a name without a home.  Sarah Jane was the name for a little girl, who was to be my sister, but could not live on this earth, so the name was without a resting place.  It was a name that needed a boat.  The name was conceived in the heart of my mother, but Sarah Jane was passed on to David.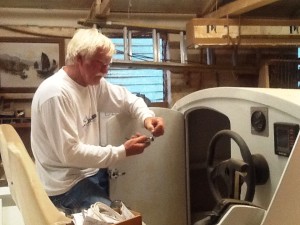 David took a Nexus 21 design and single handedly built the boat out of a pile of wood.   He wired it and produced all the proper steering parts along with motor, (We found out that David DOES know how to make things that are not out of wood.  Now, the name, Sarah Jane would be able to rest.
Today was extraction day.  The boat is not finished, but was ready for a sea trial.  It took some blood, sweat and muscle along with the friendship and unity of men who volunteered to help for the payment of donuts, coffee, pizza and coke.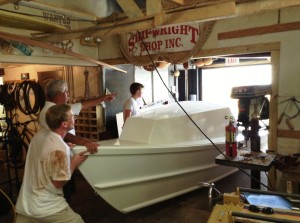 Marty Maier a boat captain and mechanic from Hinckley, along with Ross Webb, CEO of Edison Sailing Club and friend Ken Walters helped David with some technicalities.
Finally, on the trailer she was ready for a sea trial. David and I took her down to the Punta Rasa public launch. The first few minutes were rough since we had to blow some air out of the newly installed gas lines.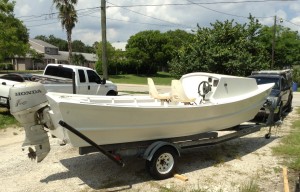 After a few minutes the hum of 50 hp engine smoothed out and with the high bow of a Dory, she sliced though the waters under Sanibel Bridge, out and around Estero Bay. David built the dory to be a fishing, diving and "lets go to have lunch at St. James City" boat.
Sara Jane proved to be sea worthy, fast and a whole lot of fun!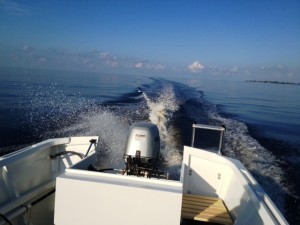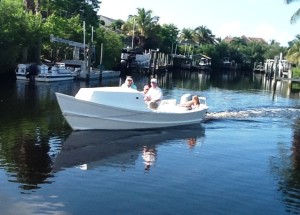 Written by Sharon Bickel