The Steal-a-Deal Sale was a huge success! Thanks to you all, we will be
completely re-stocked with reels in the next couple weeks. I am attending 3
buying shows, Penn, Shimano, & Quantum in the next 2 weeks and the selection
& prices will be better than ever.
Thank you all, from Myself Fishin Frank, the boss lady "T", & the Pirate
crew here at Fishin Franks.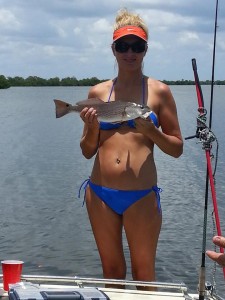 Even better than all that the Redfish have moved up by Hog Island. Cast the
mangroves laying in the water. Shrimp, Cut bait, there are plenty of keepers
there. Pictured is Michelle with her redfish.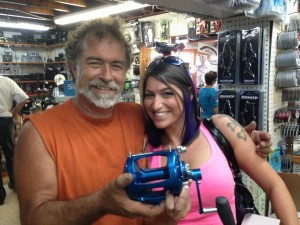 Mallory was the first person through the door the day of our Sale. After the
burglary, Mal saw the pictures of this reel, laying in the field where the
thief had stashed them. All she could think of was that poor reel with no
home & no one to love it. Just abandoned there cold and help-less & alone.
So she vowed to give this Avet a good home, to hug it and clean it. So it
will never be lonely again. Don't worry little Avet no one will ever take
you away in the middle of the night again, you are safe now.
This has been a good week!
Thank you all.
Fishin' Frank