(Ft. Myers Beach to Charlotte Harbor)  Tarpon are still around but not in the numbers of a couple of weeks ago. A few are still in Boca Grande Pass and the best opportunity to catch them is on the outgoing tide. There are some small schools of them just off of the beaches of N. Captiva, Cayo Costa as well as in Pine Island Sound. Pictured here is a large Tarpon 'in-fight', caught by a client on light tackle (10lb braided line with a 30lb Flurocarbon leader under a cork, using a live Pinfish).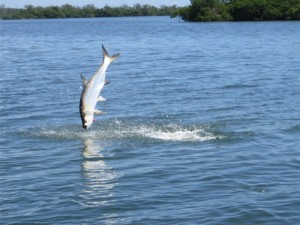 Larger Redfish are becoming more plentiful (or easier to locate) in the waters of Punta Rassa, Matlacha Pass as well as isolated areas of the back country. Back country anglers should find better success setting up on an incoming tide, before the water has a chance to infiltrate the Mangrove roots allowing the fish to move into isolated ponds and the 'back holes' of water preventing effective presentations. The same goes for the Snook. These big, ferocious fighting fish will take cover on the high summer tides, making it virtually impossible to get a presentation in close enough to draw a strike. Likewise, wait until the tide turns and hope to get them on their way out, but the heat can be brutal.
Fishing should be fairly good the remainder of the week considering the high tides for good water movement providing better oxygen while just off of a new moon. Grouper season is open and they are active so long as the weather and winds allow for a day 'off-shore'. Sharks are everywhere for those hoping to hook up and adolescent or a big one with appropriate gear. The biggest challenge to catching fish this week and the rest of the summer, will be to find the bait. The fish we 'hunt', follows the 'bait': 'NO BAIT; NO FISH! It is that simple. If one can find where the bait is surviving the heat, coupled with all of the fresh rain water; THAT'S A WINNER'!
Additional information regarding, articles and charters may be found on my website; www.fishfacecharters.com or email me at fishfacecharters@yahoo.com. I am easily reached at phone number 239-357-6829 for any questions.