What an interesting and unusual cruise! Unlike most Cape Coral Cruise Club outings, we sailed without our fearless Commodore, whose Gulfstar is on the hard getting its bottom redone. Although 8 boats had planned to join the group, "stuff happens" was in full swing so we started Tuesday with just 4 boats; Jon Lynch & Elise on Desperado, Doug & Michelle Rhees on Luna Sea, Phil & Pat Kryger on Y Knot, and Gary & Kathy Taake with grandchildren Jake and Jada, making the maiden voyage on their brand new 45' Formula, Happy Ours.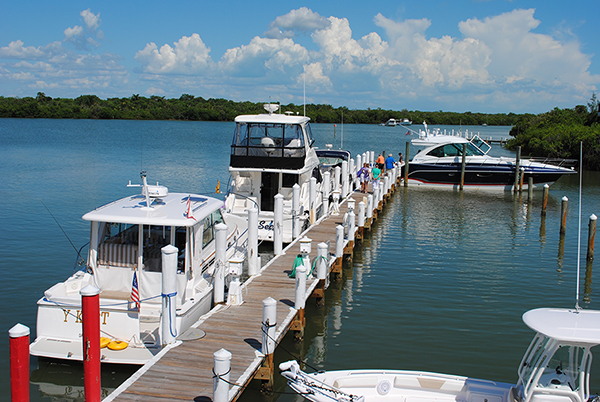 Those arriving early enjoyed sunning, swimming and chatting around the pool. 'Tween Waters' tiki hut provided many boaters with its' famous lunch specials. Arriving by car to enjoy docktails and a fabulous, 2-for-1 prime rib dinner in the Old Captiva House at 'Tween Waters were Commodore Lee & Brenda Jetton, Mike & Brenda Stewart, John & Mary Brehm, Bruce & Sue Longman and Rear Commodore Edie Limbright. After dinner, we all toured Taake's new boat and toasted her maiden voyage.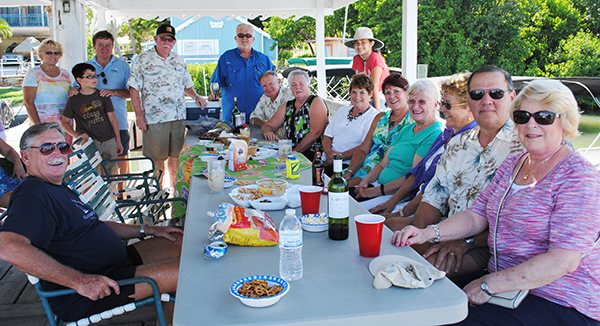 Wednesday morning brought us a clear beautiful day. Each of the cruising couples entertained themselves with swimming, poolside lounging, fishing, reading, or bike rides and long walks through town and on the beach. Kelli & Joe Miller came by car to enjoy docktails complete with Phil Kryger's famous fish bites. A puzzle contest of the Jurassic variety pitted the wits of each crew to assemble their dinosaur as quickly as possible. Kryger's skill put us all to shame as they finished in just a few minutes.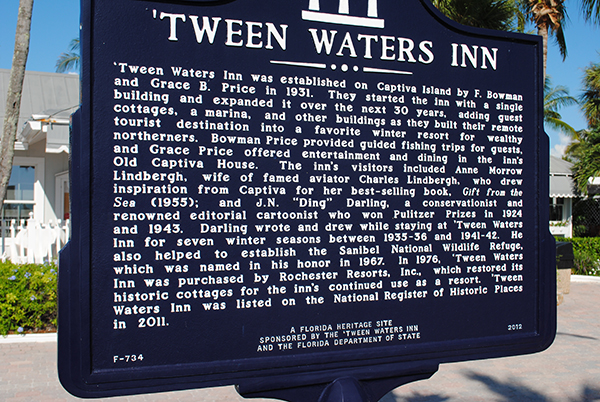 The official 'Tween Waters cruise leader had been sidetracked at the hospital, so Edie and Jim Limbright arriving on Princess, graciously stepped in with marinated flank steak, cooked to perfection right on the dock using a portable camp stove set up by ingenious Phil Kryger. All crews pitched in providing side dishes. Desert was "to die for" . . . coconut layer pudding provided by Michelle Rhees and cupcakes from Kelli Miller put each of us way over our calorie count for the day!
By Thursday morning, after all the storms had skirted 'Tween Waters, the crews of all boats enjoyed a relaxing day. The Taake's took their grandchildren to the beach only to sight sharks swimming close to the beach. Needless to say, the pool became very appealing. A few of the ladies played a wicked game of 3-handed Wizard on Y Knot prior to getting ready for docktails at 4:30pm. The Petersons, with Bob having been released from the hospital and feeling much better, joined our group of 16 for a delightful dinner at The Green Flash, followed by a beautiful sunset. Friday had the boaters heading back to their home ports. All-in-all, another wonderful cruise enjoyed by CCCC boaters.
The Cape Coral Cruise Club is open to new members who own a boat with overnight accommodations and reside in the Cape Coral / Ft. Myers area. For membership information please contact Phil Kryger at 239-541-0236. View a short picture video of recent Club activities and read additional Club information on its website, www.c-c-c-c.org Like us on Facebook.
By Elise Soyza