(Ft. Myers Beach to Charlotte Harbor)
Fishing and boating should be fantastic over the next week or so. High tides, good weather forecasts excite most anyone looking to enjoy a day of cruising, beaching, shelling, swimming and of course, fishing! Fishing is as good as it gets right now; especially on the 'new' moon phase. I suggest fishing early in the mornings and getting in before the heat kicks up accompanied by the threat of afternoon storms.
Last spring, I had the pleasure to do several trips with my fishing companion and friend, Mr. Leland Longstreth, of Ft. Myers, Florida. Lee caught several nice Snook free-lining pilchards under the mangroves on incoming and outgoing tides. He is pictured with one caught on the last outing. On a separate occasion, his grandson Ben Batchelder, of Carmel, Indiana, accompanied his grandfather and me on charter while vacationing here. Ben is a polite, fantastic junior angler who has caught his share of fish over the years. Unfortunately, the big Snook eluded him this year. None the less, Ben is committed to catching his Snook of a 'lifetime', just like grandfather did a couple of years back. Ben is pictured holding a Snook caught around the mangroves of Sanibel Island. Ben is on the wrestling team at Carmel Clay Middle School and recently placed 3rd in the 115 pound division in Marion County (Indianapolis, Indiana). Nice going Ben! See you next year.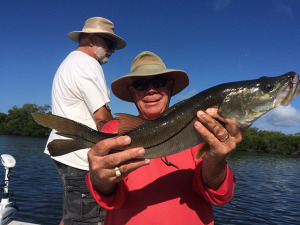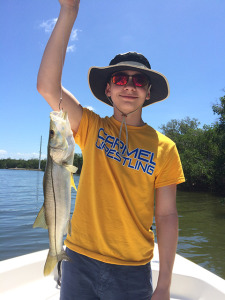 Another junior angler that I have the yearly pleasure to fish with is 12 year old Connor Budach, of Owatonna, MN. Connor was accompanied by his mom and dad (Lee Anne and Mike Budach). Connor is pictured with a nice Spanish Mackerel. It is one of many fish he caught that day. Connor continues to improve his angling abilities and has requested a shark/Tarpon trip for next year! I am looking forward to taking him. I must warn the sharks and Tarpon that Connor is ready for them!
This is Captain Terry Fisher of Fish Face Charters wishing everyone good, safe boating and tighter lines! Charter information and reservations may be obtained by calling me direct at 239-357-6829 or by emailing me at fishfacecharters@yahoo.com. More articles, tips and information is on my website; www.fishfacecharters.com