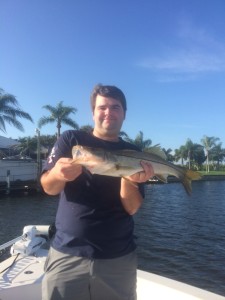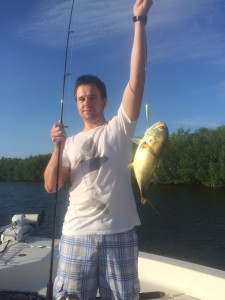 Ft. Myers Beach to Charlotte Harbor) Since my last report, we experienced some real shallow ('skinny') water in conjunction with a cold front and strong north/northeast winds. Fortunately, the fish remained active. Shown here is Maik Lindner of Frankfurt, Germany holding a nice size Crevalle Jack he caught in a Cape Coral canal on the way to the 'flats'. His brother, Christoff is shown with his first Snook on an artificial presentation while trolling the canal. Both fish were caught the day before the last cold (cool) front. Once we were on the 'flats', both fishermen continued to enjoy angling Spanish Mackerel, Seatrout and other species.
Canal and 'up-river' fishing should be good with the cooler weather as Snook, Redfish and snapper populations relocate to 'winter' in warmer waters. The baits of choice for the canals will be artificial plugs such as, soft plastics, crank baits, twitch baits and top water presentations; otherwise expect to catch a lot of catfish.
On the 'flats', large Seatrouts and Spanish Mackerels will undoubtedly be the easier fish to locate and catch. Live shrimps will be the most effective baits. Look to find easy targets, such as Sheepshead and Mangrove Snappers around pilings, concrete and rock structures, using small 'bait' hooks, tipped with a piece of shrimp.
Until next week, this is Captain Terry Fisher of Fish Face Charters hoping that my report will help you catch more fish. Check out my website at www.fishfacecharters.com for more articles and charter information. I am also easily reached at 239-357-6829 for any questions one may have.