By Captain Terry Fisher, Fish Face Charters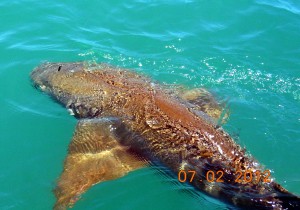 (LEE COUNTY/FT.MYERS TO CHARLOTTE HARBOR) – Since tropical storm Debbie ('Debbie') I have had five (5) charters, including a Tarpon charter last Monday, only to report it is very slow going. My fellow Charter Captains are all reporting the same. I took my Tarpon charter client, Mr. Frank Mellusi from New Jersey, out to Boca Grande Pass to see if the Tarpon had returned only to catch a nine foot (9') Nurse Shark.  It appears the Tarpon may have moved up towards Tampa, as I only spotted a few rolling on the strong out-going tide and my fellow captains not seeing many of them around the beaches or other passes.
Moreover, 'back country' has not been producing satisfactorily as before 'Debbie'. Baits have been hard to find and the shrimp are very small. However, I have been having most of my success in the early morning hours with artificial baits before the scorching heat. The Snook seem to be the easiest to locate and catch on the last half of the incoming tides, while the other species are hard to locate due to the higher water tides created by the full moon and aftermath of 'Debbie". However, the water is clearing up and as the water levels get back in place and the white bait returns, I feel the bite will improve.
Anyone who wants to go fishing should get excited as the balance of the month of July should prove to be very successful. So get out there and have a good time' as the winds are calm, making for a 'great day on the water.' If I may be of any assistance give me a call at 239-357-6829/239-471-7332 or email me at [email protected]. Check out my website at www.fishfacecharters.com.