Thanks to our year-round boating season, Southwest Florida vessels spend more time in the water than most. Our temperate waters produce ideal conditions for marine growth, so it's important to protect your boat's hull and performance from barnacles and other unwanted passengers. The solution is bottom paint, also known as anti-fouling paint. Our panel of local marine experts is here to help you brush up on your bottom paint knowledge.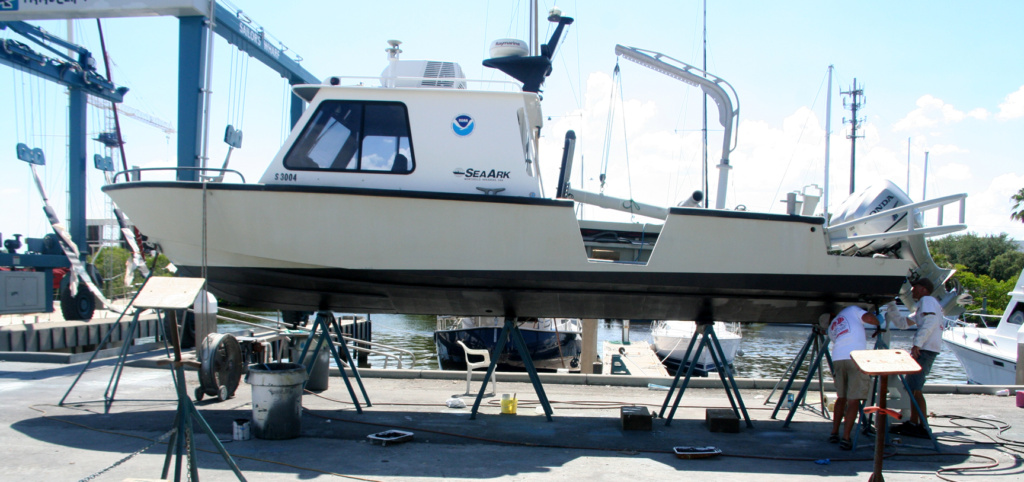 CHOOSING THE RIGHT BOTTOM PAINT
---
Not all bottom paint formulas are suited for all boating conditions, so the biggest thing to remember is to match the product to your environment.
According to Maximo Marina and Boatyard's Lee Hicks, there are several major factors that go into bottom paint selection. The water type plays a role because a boat in fresh and brackish water can easily get just as much protection out of a cheaper paint as an expensive premium paint. The water quality where the boat is stored matters because locations near golf courses, parks, at the end of canals, or other areas with a lack of water movement can require newer biocide-based paints and/or high copper paints to combat the rapid growth of organics and hard growth while providing long life of the paint. The storage method factors in because vessels kept in or out of the water require specific paint types to avoid the paint from hardening and failing after being out the water for long periods of time. The hull material is important because aluminum boats (pontoons, skiffs, etc.) need to use copper-free paints to avoid costly repair due to galvanic corrosion.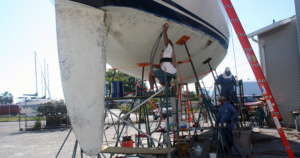 Jonathan Ezell from Sailor's Wharf Yacht Yard says the key point in choosing between hard paint or ablative paint is how you store your boat. Hard paint does not keep its antifouling properties when kept out of the water, so it's normally used on powerboats and racing sailboats that stay in the water. Ablative paints keep their antifouling out of the water which makes them ideal for trailered and lifted boats. "When choosing a bottom paint, you should always ask around to fellow boaters in your area to see what paint best works with the conditions your boat will be in," adds Ezell. "We've found in the Tampa Bay area paint with multiple biocides work the best to keep your bottom nice and free of marine growth."
For the conditions here in SWFL, Derema Group's Scott Couturier says he turns to top performing products such as Pettit's Odyssey® family of multi-season ablative paints or Pettit's Trinidad® family of hard antifouling paints because they feature high biocide loads to prevent growth for extended periods of time and prevent short hauling.
Because the new bottom paint must also work with what's already on your hull, Justin Williams from Coastal Marine Yacht Service Center suggests talking with your local bottom paint expert to understand your specific vessel's needs.
KNOWING WHEN IT'S TIME FOR A BOTTOM JOB
---
You don't want to wait until your vessel begins to experience growth but knowing when to pull the trigger on a new bottom job can be tricky. There are some general rules of thumb regarding how long a bottom paint job should last. professional estimates ranging from 12 months to 2 years. However, with so many factors involved, you shouldn't rely solely on the calendar.
The most popular solution is a called a signal coat, which requires applying a contrasting color durable antifouling paint below a multi-season ablative paint. "If the boater would like to have Odyssey Triton in black as their final coat or two, they should install an Unepoxy HRT or Trinidad red durable coating before so that when the ablative wears through and the red is exposed, the boater knows it's time to paint," explains Scott Couturier (Derema Group).
Lee Hicks (Maximo Marina) says boaters should also pay attention to clues like a loss of performance or increased fuel consumption even after normal maintenance and hull cleanings. If the frequency in which you or your dive service clean the hull has increased to weekly or bi-weekly rather than monthly, or the hull cleaning takes longer than normal to accomplish, it's probably time for a new bottom job.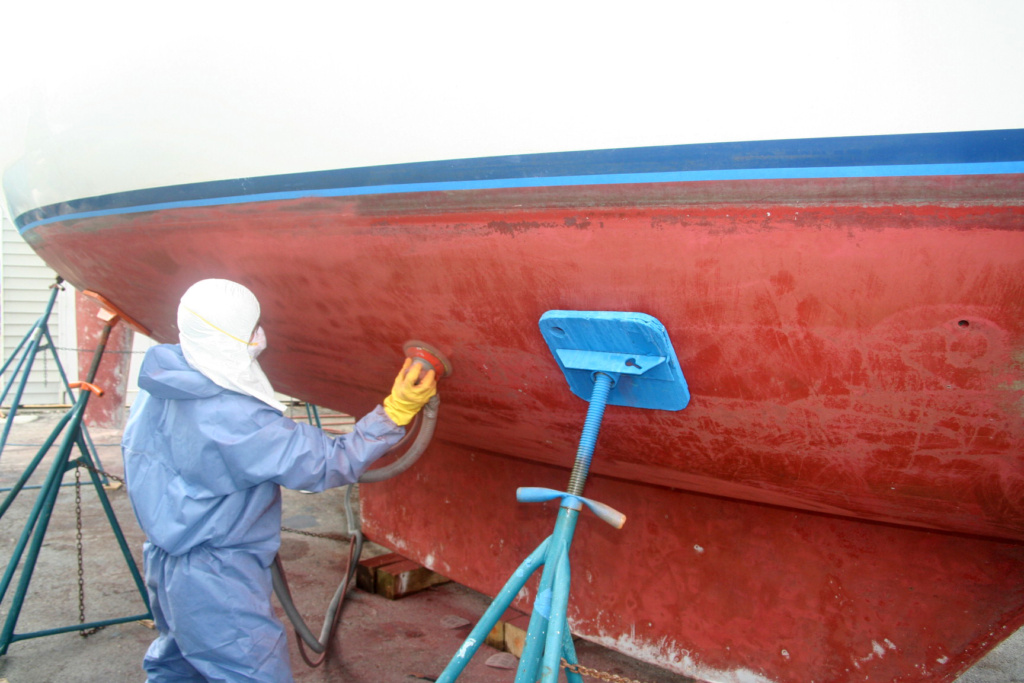 DIY VS. PROFESSIONAL
---
Some boat maintenance is easier to tackle than others, and ambitious boaters might be tempted to add bottom painting to their DIY skills. For anyone weighing their options, our experts have some words of wisdom.
Jonathan Ezell (Sailor's Wharf) warns that while performing a DIY bottom painting might seem like the easier option on your wallet, it can backfire if the work isn't performed correctly. "Professional boatyards work with paint manufactures on prepping and application procedures. If the bottom paint is not prepped and applied correctly it can lead to flaking," says Ezell. "Another reason to reconsider doing a DIY bottom paint job is the hazards that the job involves. Bottom paint is poisonous and contains heavy metals which can cause harmful effects if the proper PPE is not used. Professional boatyards are setup with the equipment and proper safety gear to get the job done safely."
Safety concerns was a sentiment echoed by Justin Williams (Coastal Marine) who reminds boaters to put the applicator's safety first by always using the appropriate personal protection equipment.
Application timing is another complexity of bottom jobs, as explained by Scott Couturier (Derema Group). "We only recommend skilled DIY to apply marine coatings due to the complexity of overcoat windows. When applying epoxy barrier coats followed by a durable intermediate signal coat and then finishing with 2 coats of multi-season ablative, it's crucial that all overcoat windows are strictly followed. Pettit spends a great deal of time and expense training boat yards so that boat owners never have to worry about their boats bottom. They can throw a certified applicator the keys and know when they get their boat back from them that the bottom was applied to manufacturers spec."
Lee Hicks (Maximo Marina) says there are three things to consider when deciding between a DIY or going pro. Cost: Factor in the cost of the safety equipment that should be used (gloves, painters suit, respirator, etc.), the tools to properly prep the job (pressure washer, sander, sandpaper, tape, paint rollers, brushes, etc.) and the paint itself. Time: Do you have the time and environment to perform the job in a timely manner? Some barriers and paints must be applied within certain time limits and cannot exceed certain lengths of time between applications. Warranty: Will the paint manufacturer still warranty the paint when if it's applied outside of a professional service environment?
Like all aspects of boating, there's not a single bottom painting solution that will suit every boat and every boater. If you have any questions about bottom painting, reach out to a seasoned pro for advice. You can find plenty of local marine experts in our boater's directory who can help you navigate bottom painting, boat maintenance, and beyond.
Remember to stay in the know by subscribing to our monthly newsletter, which is full of great information for our fellow Southwest Florida boaters. See you on the water!
---
ABOUT THE EXPERTS
Coastal Marine Yacht Service Center
From routine yacht maintenance to complete repair and refurbishment, Coastal Marine Yacht and Service Center helps owners get the most enjoyment out of their vessel. Coastal Marine is also a member of the Marine Industries Association of SWFL and Tampa Bay.
coastalmarinellc.com | 1-727-576-9315
Derema Group
Derema Group is a nationally recognized sales agency representing some of the top brands in the marine accessory industry. As a member of the Marine Industries Association of SWFL and Tampa Bay, Derema is committed to providing customers with the latest news, product updates, and happenings in the marine industry.
derema.com | 1-813-495-2457
Maximo Marina and Boatyard
Maximo Marina is conveniently located in St. Pete's SkyWay District. This Marine Industries Association of SWFL and Tampa Bay member offers covered and uncovered slip options, plus an on-site boatyard for minor and major repairs and maintenance.
maximomarina.com | 727-867-1102
Sailor's Wharf Yacht Yard
Located in St. Petersburg, Sailor's Wharf is a full-service sailors' boatyard and Marine Industries Association of SWFL and Tampa Bay member. Sailor's Wharf has served the area since 1978 and offers repairs, remodeling, and painting for yachts and other boats, as well as long-term storage.
sailorswharf.com | 727-823-1155