July fishing has been really good with the advent of clean water, no Red Tide and beautiful hot Florida sunshine. Pictured her are two of my favorite fishing families, both with extensive military backgrounds.
I recently had the pleasure of being with the family of retired Army Lt. Colonel, Ben Blackman (33 yrs of service) who now resides in Brandon, Florida on a fishing adventure with his children, Caybren Monday (19), Cayson Sager Blackman (16), Cayden (15), Caydrien 'KK" (13) and Cagan Granger (12). It was a fun reunion with the kids and an honor to be with Ben again. We went through at least 300 shrimps in 4 hours, as the 'bite' was fantastic with lots of fish caught. Pictured here after the charter is the family as well as pictures of the kids in order of the script. I am looking forward to a repeat next year as they enjoy their 'Time Share' on Sanibel Island.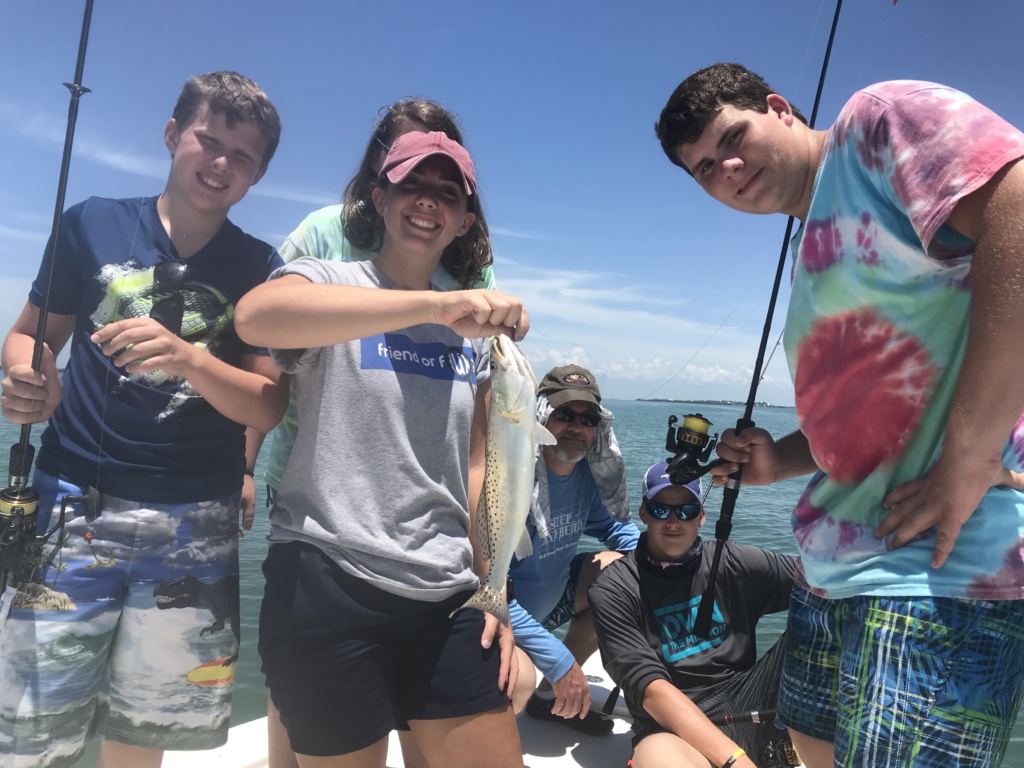 | | |
| --- | --- |
| | |
Ben's brother, Dan Blackman,
Dan's wife Tracy, son Tim and Tracy's father, Marty Wharton joined me a few days later for our annual fishing adventure as well. I always look forward to taking this group out. Ben is retired Army and now is employed in Virginia working with the United States Coast Guard. Ben and Tracy reside in the Washington, D. C. area while son Tim is attending college in Florida. Marty is retired and resides with his wife in the San Francisco Bay area. Pictured here are Tim Blackman and grandfather Marty each with nice Seatrout. They figure they caught around a 120 fish during the charter. Looking forward to seeing both families again next year! Thanks to both Ben and Dan for their years of military service and their protection for our country! God Bless you all!
I look for fishing to remain good as the Redfish, Snook, Seatrout and a host of other fish are again plentiful in our waters, both inshore and offshore.
This is Captain Terry Fisher wishing everyone 'tight lines'. Call me direct at 239-357-6829 or email fishfacecharaters@yahoo.com to book a charter on my vessel or yours. I am available as Captain for Hire on your vessel (by the hour) for safety, navigational, fishing techniques and fishing locations that will insure fun boating and catching lots of fish every time you go. Check out my website at www.fishfacecharters.com for more information.