By Captain Terry Fisher
Early October failed to produce a lot of charters as well as opportunities to boat or fish in as much as strong winds and rain put a damper on things. The weather forecast for the week of the 8th of October is looking pretty good and should allow access to both inshore and offshore locations.  Unfortunately, I will not get to join the hunt for RED OCTOBER (Redfish) until the week of the 15th as I am traveling to the Turks and Caicos Islands. Fortunately however, I will have a week of Scuba Diving and some fly fishing, on the flats of those islands and cays.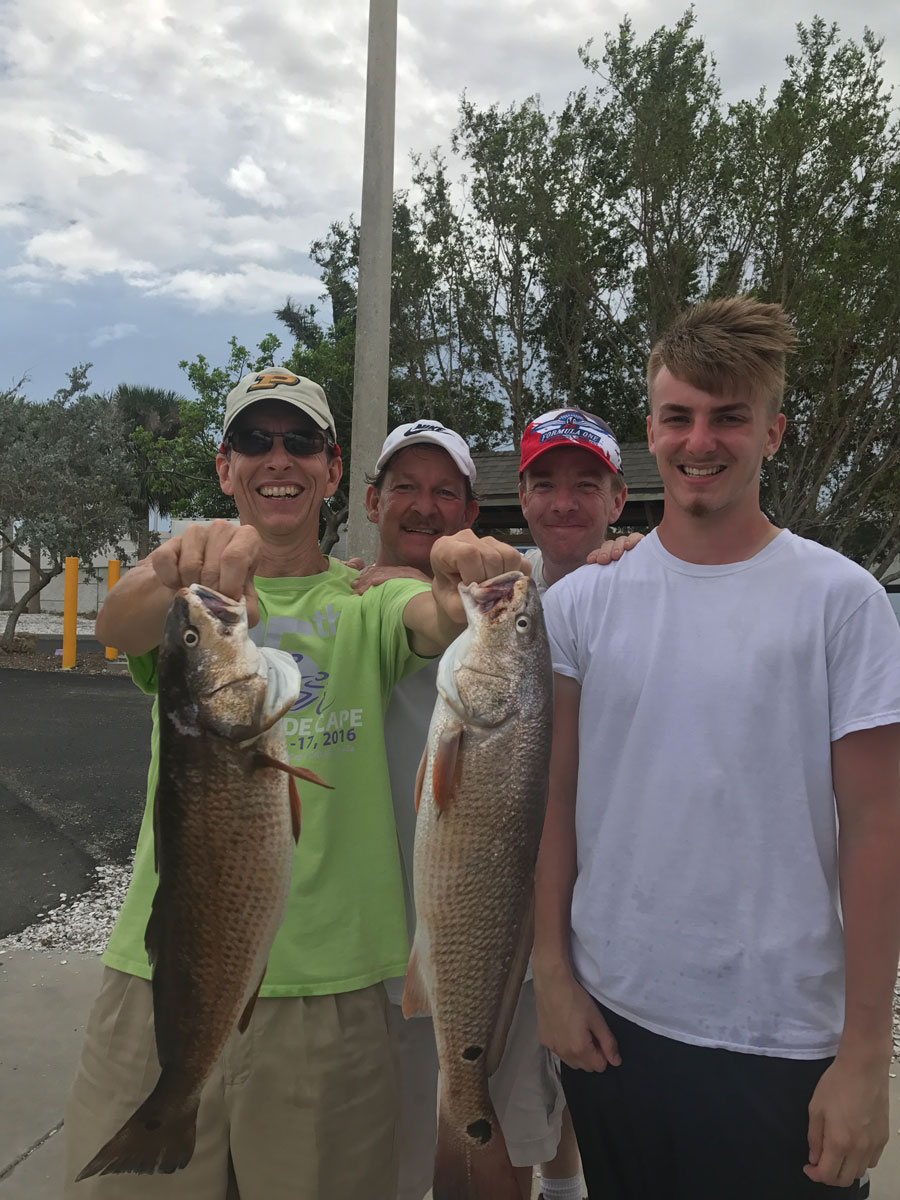 Last week I had the pleasure of taking out annual charter clients from Indianapolis, Indiana in search of Redfish, Seatrout, and Spanish Mackerel. No Spanish Mackerel inshore (however, they are offshore), but lots of small Seatrout in 3 to 6 feet of water over the grass flats of Wulfert Keys and Chino Island. They caught six or more Redfish on the morning incoming tide in the dark waters of Punta Rassa. The family of four: Jamie Neff, his son and brothers respectively, Mike (17 years young), brothers Bill and Steve. Steve Neff lives in Cape Coral and is blessed with a visit each year from his family. They are pictured as a group holding two of the Redfish caught that morning. As always, we had a great reunion and time on the water. Looking forward to next years outing!
I suggest taking advantage of good weather for boating and fishing. There are mullet everywhere as well as plenty of other bait- fish for cast netting. Large, live shrimps available at select bait shops. Whether one likes to use live bait presentations or artificial, October provides great opportunity to catch a variety of fish using both venues.
This is Captain Terry Fisher of Fish Face Charters wishing everyone safe boating and great fishing! Check out my website at www.fishfacecharters.com for more information regarding charters and fish to catch or email me at fishfacecharters@yahoo.com. Call me direct at 239-357-6829 with any questions you have. I am also available as 'Captain for Hire' (by the hour) on your vessel for safety, navigational instructions together with fishing techniques and locations to insure that your every boating and fishing excursion is safe and successful. Monthly fishing articles may also be obtained from Coastal Angler Magazine at many retail outlets including, Bass Pro Shop of Ft. Myers, Publix Super Markets and most bait shops and marine facilities.