Jensen Beach, Florida
This year Costa Del Mar, along with other 'industry' leading vendors (Simms, Yeti, G. Loomis, Hell's Bay Boat Works and Nautilus Reels), rallied over 170 Charter Captains to attend a 2 day educational, informative and competitive event, in support of our livelihoods and continued longevity. It was a rewarding experience, held at River Palm Cottages & Fish Camp, hosted by the owner, Captain Rufus Wakeman. The location, hospitality, attention to service and detail was second to none.
Leading industry Charter Captains and Television personalities included; Mike Holiday of the Florida Insider Fishing Report and Paul Gozoz of Reel Time Florida Sportsman TV series. Speakers and presenters included; Oliver White on 'Hosting Trips', Flip Pallot and Chris Whitman from Captains for Clean Water.
Each vendor had representatives who shared valuable information regarding their products as well as provided prizes and discounts to those of us who took the time to attend. Those in attendance were 'Costa' Charter Captains from as far away as Michigan, New York and N. Carolina. Most however were 'Floridian' Guides that make their living day by day in these waters and who are with the most important movement of all: CAPTAINS FOR CLEAN WATER! Check out the website www.captainsforcleanwater.org and sign up with your support. Otherwise, it will soon be the 'NEVERGLADES' instead of the 'EVERGLADES'. The 'clean water issue' is a statewide issue and needs to become a priority for all!
The CAPTAINS FOR CLEAN WATER movement is the result of years of mismanagement by the Corps of Engineers 'Corps'. Being from Hannibal, Missouri, I have seen what the 'Corps' will do to misdirect, redirect and destroy waterways (Mississippi and Missouri Rivers) to accommodate commercial development for profit. Our nationally recognized estuaries here in Florida are in long-term collapse due to damming, ditching and draining of the river grass. Caloosahatchee and St. Lucie Rivers are artificially connected to Lake Okeechobee by way of man-made canals that allow billions of gallons of nutrient and sediment laden freshwater into them. Lake Okeechobee discharges are killing seagrass, oysters and other aquatic life. Nitrogen, phosphorous, insecticides (from spraying) and other pollutants linger for years in the estuaries. These chemicals fuel toxin-producing algal blooms. Algal blooms contribute to increased Red Tide outbreaks. This is the result of redirecting water through the man made canals to the rivers and not allowing the natural flow of water south through the Everglades.
Moreover, the Herbert Hoover Dike (built by the 'Corps') surrounds Lake Okeechobee and prevents natural water from flowing south into the Everglades, as it has historically done. Florida Bay ('Bay') and the Everglades now only receive about 1/6th of the freshwater flow it once did, killing thousands of acres of seagrass due to lack of fresh water because of unnatural high levels of salinities flowing into the 'Bay' from the ocean.
The solution in short is: Lake Okeechobee must be first cleaned in the manmade wetlands before releasing water south through the Everglades. More storage and storm water treatment areas south of Lake Okeechobee are required. There is scientific proof for correcting these problems. The legislation is already passed with the money available to acquire the land for additional storage via Amendment 1. Everyone needs to get on board and sign the petition (referendum). Go to www.captainsforcleanwater.org for more information and how to support the movement to save our fisheries and coastal communities of South Florida. This is having a huge negative impact on our marine and tourism industry as I write.
It was also a 'plastic' bottle free event (Yeti provided non-plastic drinking containers). Plastic is choking our river and oceans, thus killing our fish. We are proud to be a part of this important venue as well.
The agenda for the two days offered competition between Captain's including; Cast and Pole by Hells Bay Boat Works for fly-fishing guides, Fish Fighting Tug of War, Blind Casting Rigging and Knots Face Off. Prizes were given to those who participated and won a particular event. Ping Pong, Corn Hole, dock fishing, Bonfire, films and a Pig Roast with frosty beverages rounded out the event.
Many attendees brought their fishing gear and took advantage of the annual 'mullet run' from the beach, the dock and on boats to catch their first Snook or Tarpon.
Those of us who took our boat had the opportunity to welcome visiting guides aboard to experience Florida fishing at its finest. Snook, Tarpon, Jack Crevalle were inshore and off the beaches. Offshore Pelagics such as Dolphin Fish, Sailfish were capitalizing on the mullet as well. My 1st Mate (Vicki) and I had the pleasant opportunity to welcome aboard Captain Jason Coslow and his wife Kathy of KC-1 Sport Fishing of Lake Michigan. Kathy hooked up her 1st Tarpon along the St. Lucie inlet. Jason assisted Vicki in landing and boating a Sailfish over 5ft. They are pictured together after boating the fish. It was 'released' unharmed.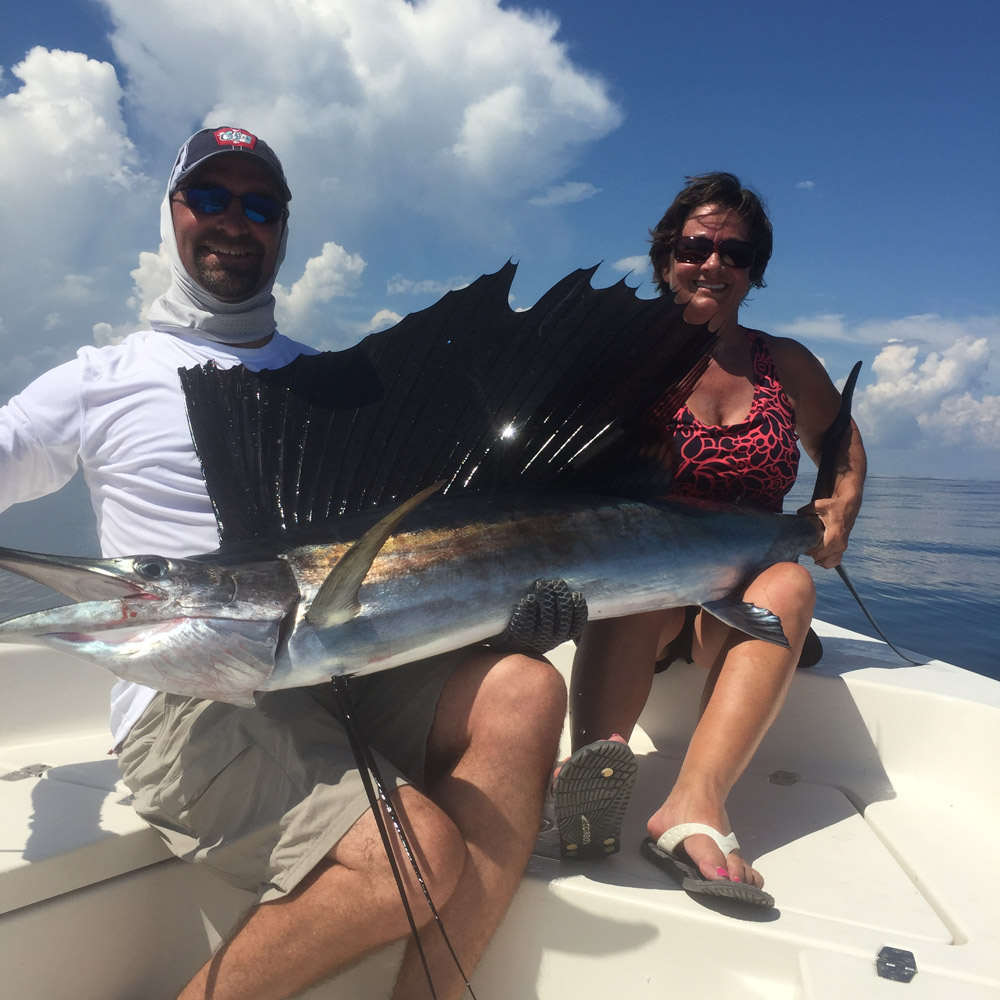 I feel that I write for all Captains in attendance in as much as, the time spent was educational, informative and worthwhile. The camaraderie was a bonus. Our thanks to Costa Del Mar's Peter Vandergrift for such an enjoyable and rewarding 'gathering'!
If one has never experienced the east coast 'mullet run'; it is definitely a 'bucket list' consideration!
'Special' thanks to River Palms Cottages & Fish Camp, host of the event. The hospitality, amenities, cleanliness and value location are idea for anyone thinking of fishing that area of the east coast. River Palms Cottages & Fish Camp is located at 2325 NE Indian River Drive, Jensen Beach, Florida 34957. Phone 772-334-0401/800-305-0511. Website is www.RiverPalmCottages.com
This is Captain Terry Fisher of Fish Face Charters in Cape Coral, Florida. Contact me at 239-357-6829. Email me at fishfacecharters@yahoo.com. Website: www.fishfacecharters.com I am also available as 'Captain for Hire' on your vessel.