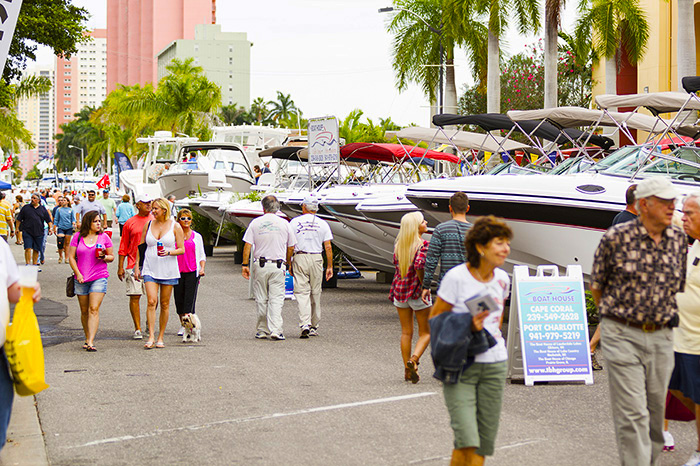 A boat show goers guide to doing it right.
Most boaters agree the best time to buy a boat is during the winter boat show season. They also agree that boat shows are great opportunities to take advantage of manufacturers' incentives on new boats—as most manufacturers run promotions to correspond with winter boat show season. Even if you aren't in the market to buy a boat yet, boat shows make a great family day to just have fun and take it all in.
Do pre-show research
Boat shows are a great way to begin your buying process. In short, there is simply no better way to look at a lot of boats in one place AND to determine if you are getting a good deal. A way to ensure that even further is to do your homework ahead of time. This is getting easier as many boat manufacturers now have online 'build a boat' tools where you can choose your boat's features and see its costs.
Attend multiple shows
Winter boat show season is (generally) January through March. If you are a serious boat shopper, use the boat show season to your best advantage by generating a 'short list' and attend Fall boat shows as well—typically in October and November. By attending as many boat shows as you can throughout the year, you build your knowledge of manufacturers, dealers, and prices—thereby helping you narrow the field of choices.
Shop for a brand AND a dealer
Remember, you're not just shopping for a boat, but also for a dealer. Take note of the sales people as you see the boats. When you purchase a boat from a dealer, it is the beginning of a relationship—one that could be rewarding or disappointing. Boat shows are a good time to ferret out which dealer(s) to work with in the long term. Finally, don't be afraid to talk price to a dealer, even if you know you aren't ready to buy. This can do nothing but help you determine a more accurate price for the boat you want, and how willing a dealer is to work with you.
For a list of boat shows throughout Southwest Florida, CLICK HERE.