In many parts of the country, summer boating safety tips revolve around the increased number of boats and activity on the water. In Florida, we experience that issue between Thanksgiving and Easter during what we affectionately refer to as 'season'. However, summer boating in Florida does come with its own set of seasonal challenges, which are either heat or weather-related. Let's start with weather…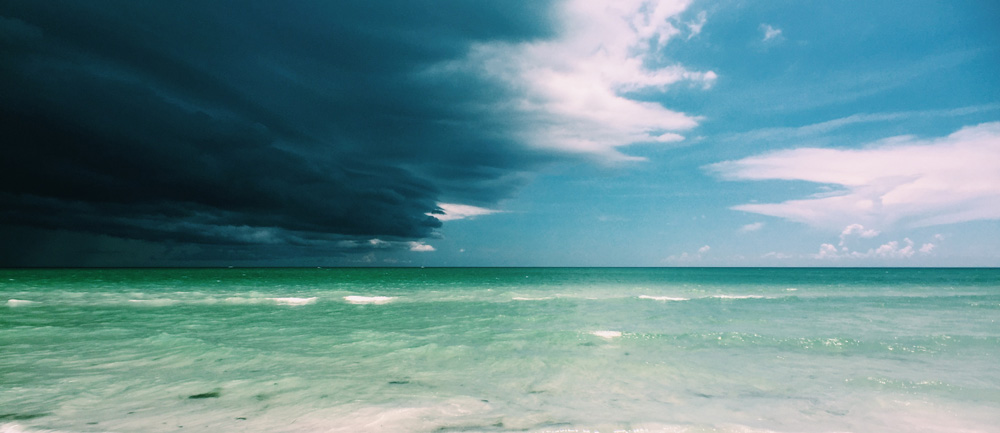 Afternoon Storms
Spend any time in Florida between mid-June and late August and you will notice that almost every day, the skies open up in the middle of the afternoon and send (you'd swear) nearly every drop of precipitation they have down upon us for about an hour and a half. For those of us on land this simply means staying inside and dry.
If you're out on a boat, it's a whole different story. Depending on sea conditions, this could be a long hour and a half, especially if there is lightning—the biggest concern. The best way to deal with this kind of weather is to, obviously, not be there. Check the forecast and schedule your time out to be before or after the storms. When this is not possible or something comes rolling in quickly, seek protected water or, better still, head to shore.
Staying Cool
The Florida sun is intense most of the year, but summer is the worst…especially mixed with increased humidity. Which means sunstroke or overexposure to the sun is a real danger. This, unlike weather, is more within your control. Sunscreen is an easy precaution. Use a high SPF and make sure to use the water/sweat-proof kind. Apply before you go out and one or two times during the day depending on your skin type.
The other thing to do is add or use the boat's canvas top. If it has a hard cover, which is common on larger boats, this is easy. Smaller boats usually include a Bimini top which provides great shade but many boaters don't use them while running as they can often vibrate underway…a small price to pay for shade.
Finally, jump in. After all, you're on a boat. A quick swim can lower your body temperature quickly and refresh you all at the same time.
Staying Hydrated
Your body depends on water to survive. Every cell, tissue, and organ in your body needs water to work properly. Your body even uses water to maintain its temperature.
Water makes up more than half of your body weight. You lose water each day when you go to the bathroom, sweat, and even when you breathe. You lose water even faster when the weather is really hot—so if you don't replace the water you lose, you can become dehydrated.
Symptoms of dehydration include: Little or no urine, or urine that is darker than usual, dry mouth, sleepiness or fatigue, extreme thirst, headache, confusion, dizziness or producing no tears when crying.
Don't wait until you notice symptoms of dehydration to take action. Actively prevent dehydration by drinking plenty of water. For some people, fewer than 8 glasses may be enough on an average day—this amount should be increased 50-75% when outdoors in hot wether. And don't forget, you can stay hydrated via fluid intake and eating water-rich fruits and vegetables like grapes, watermelon, tomatoes or lettuce.
Following these guidelines can help keep you safe, healthy, and none the worse for wear on your next outing. Boating safe is boating smart!