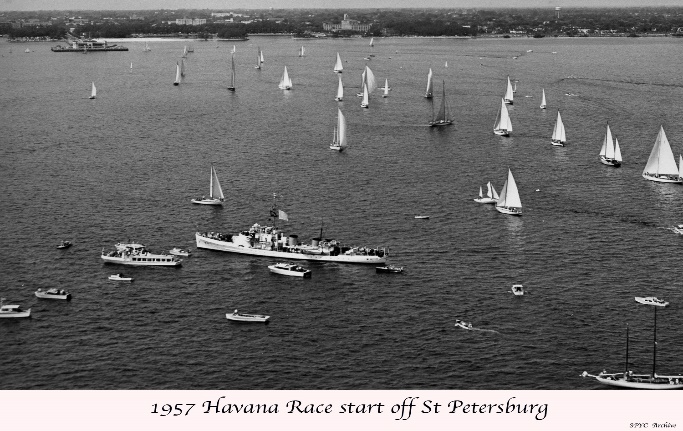 The St. Petersburg Yacht Club is proud to announce the revival of the original St. Petersburg – Habana Race
Starting – February 28, 2017
Preliminary Schedule (Subject to Change)
Feb 24-26: Arrival of vessels at SPYC Docks – Free dockage for boats entered.
Feb 26: Registration – Competitors & guests reception.
Feb 27: Monday evening – Departure celebration.
Feb 28: The start at St. Petersburg Yacht Club.
March 1 & 2: Racing to Habana/Hemingway International Yacht Club, Cuba.
March 3-4: Welcome party, a regatta from Hemingway YC to Morro Castle and back, with Cuban sailors being involved. Exploration and enjoyment of the island and guided tours.
March 5: Dinner party & awards presentations. The Habana Race Organizers will provide information about:
The documents needed for the United States and Cuba.
The hotel rooms for competitors and friends in Cuba and St. Petersburg.
Flying to Cuba.

For information about the St. Pete Yacht Club explore the website at www.spy.org.
For accommodations in St. Petersburg: click on "Sailing" on the home page, then click on "Regattas" and scroll down to the bottom of the page to "Hotels."
Guest Card: To enhance your experience during this event at the St. Petersburg Yacht Club, you may obtain a guest card online. Click on Sailing at the top of the home page, then click on SPYC Guest Card. Fill out the information and your card will be waiting for you at the front desk. To be sure that your card will be ready for you please make this request 48 hours in advance of your arrival.
The Official Notice of Race and other information will be posted soon.