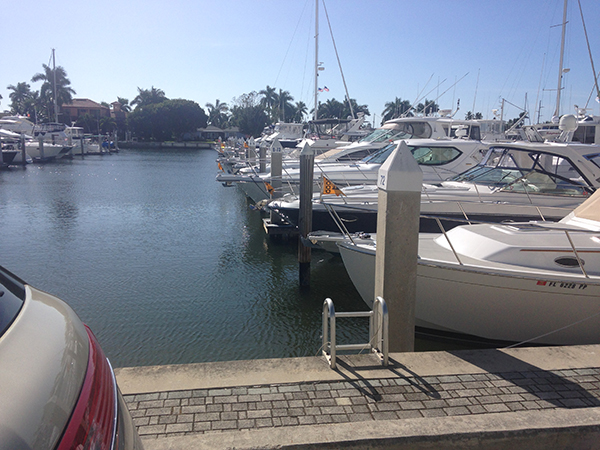 Eleven boats were greeted with sunny skies for the November trip to Marco Island Marina, a destination that had been off the Club schedule for a few years.  All boats were neatly snuggled into their slips with the aid of dock master, Elmer Mimas, who located the entire group on one dock for our convenience.  Cruise leaders for this cruise were Terry and Laurie Carlson. The boats no sooner got tied up and the fun began as all boaters were introduced to the cruise leader's Marco Island Poker Run, receiving their score cards and their first playing card.  Subsequent cards were issued at different scheduled events throughout the three day cruise.
Tuesday evening was kicked off with Heavy hors d'oeuvres by the pool, followed by a Cape Coral Cruise Club Member Trivia game prepared by cruise leaders,Terry and Laurie Carlson.  Participants enjoyed learning little known facts about Cruise Club members that had been gleaned from Bio's that are soon to be published on the Club website.  Gary Taake was the winner of the competition.  Valuable prizes were awarded!
Breakfast was served Wednesday morning by the cruise leaders. Main dishes included Apple Monkey Bread, Sausage Hash Brown Casserole, a Stuffed Pancake casserole and more.  Pretty sure nobody left hungry.  Wednesdays daytime activity was a fun trip to the Marco Island Farmers Market that ended with a nice lunch/drinks at the Esplanade marina.   The Wednesday evening meal, provided by the cruise leaders,along with contributions from other cruisers, was centered around the Carlson's "almost famous backyard smoked" pulled pork with all the trimmings.  After dinner entertainment was provided by John and Patti Queen and their "When the Hell was that?" competition.  Winner was Pat Kryger with runner up Donna Overstreet.  Once again, valuable prizes were awarded. CCCC has neat contests…
Thursday morning brought yet another breakfast by the pool with Scrambled eggs with cheese, rolls and fruit.  Later that morning a trip to the Marco Island Museum was on tap.  Approximately 10 people enjoyed learning the history of Marco Island from ancient times to present modern development.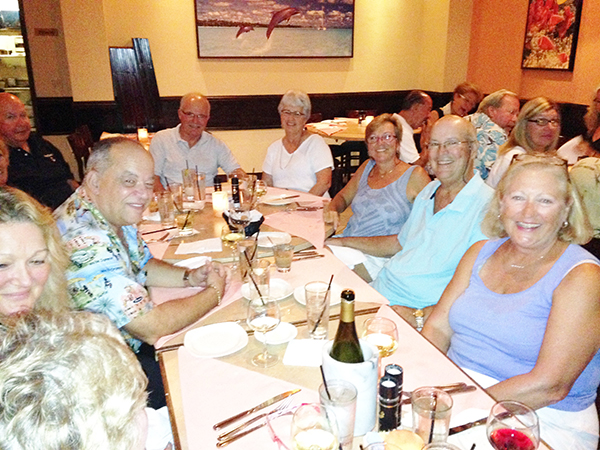 Thursday evening was our dinner out at CJ's on the Bay at Esplanade. Cruisers were treated to a beautiful facility and marina on the bay at the Esplanade with a wonderful menu that provided something tasty for everyone.  The after dinner highlight was the culmination of the Marco Island Poker Run.  Final cards were drawn and the winners were Bill and Donna Peterson… and yes, valuable prizes were awarded.
Friday morning all boats cast off, bid a fond farewell to Marco Island Marina and headed back north for a smooth Gulf ride back to the Cape Coral / Ft. Myers area.
The Cape Coral Cruise Club is open to new members who own a boat with overnight accommodations and reside in the Cape Coral / Ft. Myers area. For membership information please contact Phil Kryger at 239-541-0236. View a short picture video of recent Club activities and read additional Club information on its website, www.c-c-c-c.org  Like us on  Facebook.
By Terry and Laurie Carlson