Each month, the Cape Coral Cruise Club takes a scheduled cruise to a different marina in SW Florida and stays for several days enjoying the area's amenities and hospitality. We do that nine times a year along with an extended cruise each Spring. We take a break during the summer months of July and August as many members leave the area. However, sometimes a marina offers the Club a special off-season discounted rate to visit their marina.
That happened when the Pink Shell Marina and Resort in Fort Myers Beach offered the Club an attractive discounted rate for staying at its marina during the month of August. I won't say how low the offer was, but it was certainly an offer we couldn't refuse. So, it was decided to organize an unofficial cruise to the marina for any interested Club members.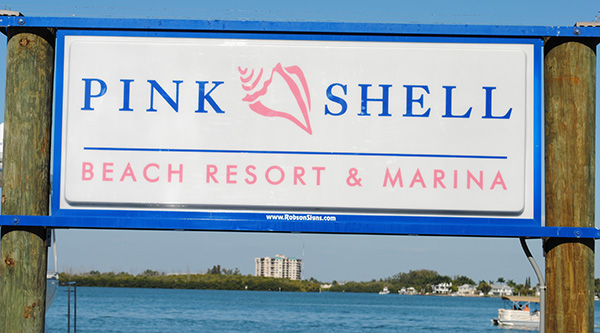 Unofficially, nine boats made the trip, and this article is the unofficial account of that trip. Over the days of August 20th to 23rd we scheduled this cruise to arrive Thursday and depart on Sunday so that some members who may work during the week could join the fun.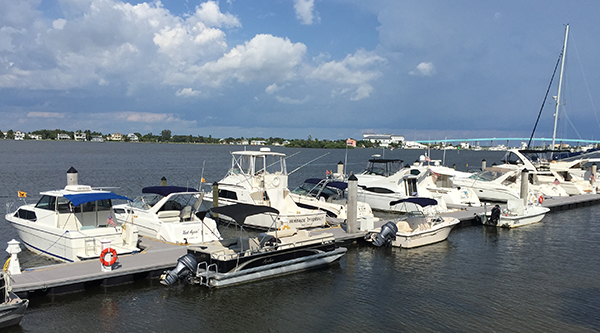 Eight boats arrived Thursday, and one boat arrived Friday. The marina either coincidentally or intentionally assigned us slips that resulted in all boats being lined up from the smallest to the largest as you walked down the dock. Yellow Club burgees flew on the bow of each boat sporting our club mascot – a dolphin holding a drink of some sort (an adult beverage, I would surmise). After safely docking Thursday, sixteen club members convened in the late afternoon for cocktails, snacks and conversation.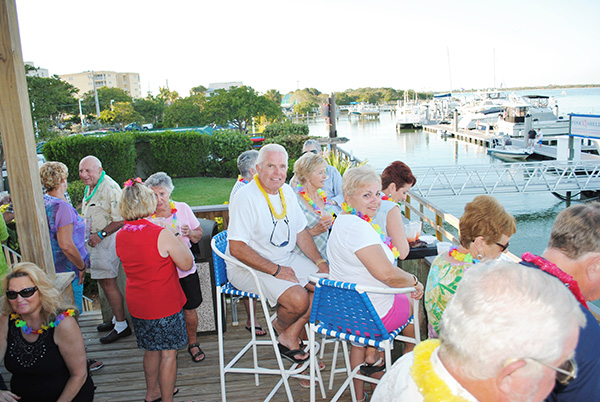 For dinner, we had CIFO's. (Circular Italian Food Objects). 5 large pizzas were picked up and we dined in the Pink Shell conference room provided by the resort. After dinner, I hosted a game of Jeopardy created on my laptop and projected onto the wall. Special categories such as "Local Waters" and "Cape Coral History" were developed. (For example, are you aware that the first traffic signal in Cape Coral was placed at the intersection of Cape Coral Pkwy and Coronado in 1969?)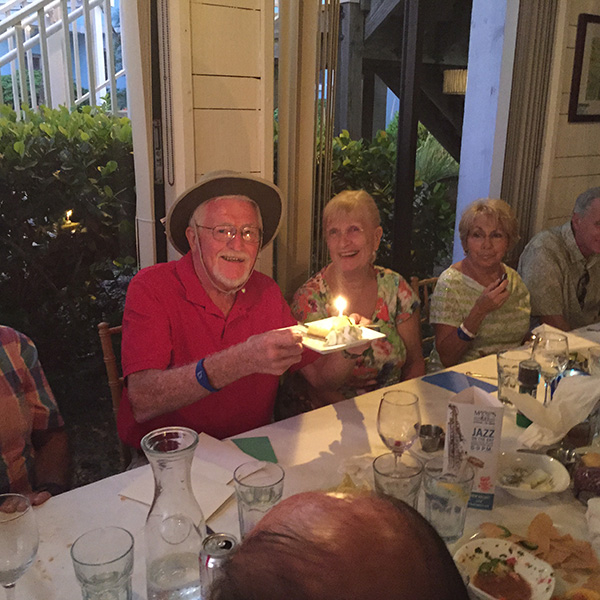 On Friday, we again provided members breakfast, and then everyone went off to enjoy the pool, Ft. Myers beach, or other amenities around the resort. I decided to join several friends at the pool which was not heated, nor needed to be. After being in the pool for several minutes, I recalled my new iPhone was with me in its water proof case. It was checked for calls and, to my utter dismay, found that the "water proof" case was not so water proof. Yikes! So much for making phone calls the rest of the week.
For Friday night, a group dinner was arranged at Matanzas Inn Restaurant in Fort Myers Beach and eighteen boaters along with fifteen other Club members who arrived by land yacht, converged on the restaurant at 6:00 PM. Since we had a small crowd of 33, the manager had reserved the back area of the restaurant so that we could all dine together. It was great to see so many club members show up. Everyone was anxious to catch up on life's happenings since we had not been together for a month or so. We also celebrated one member's birthday. Well, not on that day specifically, but the same date of many, many years prior. You know what I mean.
On Saturday, we again fed the boaters breakfast and then sent everyone off to enjoy the day. Saturday was pretty much an 'on your own' day, so we didn't have much planned as far as club activities. Fortunately, Mother Nature was quite cooperative during the time we stayed at the marina and our need for umbrellas was minimal. However, her hot days reminded us that we were indeed in southwest Florida in the middle of August.
On Sunday morning we cast off lines and headed for home ports. Much appreciation goes to Dave O'Conner, the Dockmaster at Pink Shell Resort and Marina. His hospitality and special accommodation to the Cape Coral Cruise Club made this unofficial cruise officially happen!
The Cape Coral Cruise Club is open to new members who own a boat with overnight accommodations and reside in the Cape Coral / Ft. Myers area. For membership information please contact Phil Kryger at 239-541-0236. View a short picture video of recent Club activities and read additional Club information on its website, www.c-c-c-c.org Like us on Facebook.
By John Queen, Vice-Commodore, Cape Coral Cruise Club