The personal watercraft (PWC) concept originated in the 1960s, combining the elements of self-power, small size and a maneuverable, active vessel. Bombardier Recreational Products, known for its Ski-Doo® snowmobiles, introduced a personal watercraft slightly resembling what we know today as a PWC in the late 1960s, with limited success. This craft is credited for being the first sit-down style PWC. In the early 1970s, Kawasaki Motors Corp. U.S.A. introduced the JET SKI® watercraft, the first commercially successful standup PWC.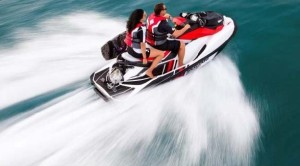 There are currently three major companies currently active in the personal watercraft market. In the mid-1980s, Kawasaki's JET SKI® watercraft was joined by Yamaha Motor Corp. U.S.A. Their product line of the WaveRunner® model created a market shift from the stand-up to the sit-down style PWC with one- and two-person capacity. Shortly thereafter, Bombardier Recreational Products re-joined the market with their Sea-Doo® line. Most recently, in 2002, American Honda began selling its version of a PWC, the AquaTrax®. Honda in 2009 ceased production of its PWC line.
Sea Doo (BRP) and Yamaha are the major players. Now with 39% and 35% market share respectively. Kawasaki is a distant third at 14%. One could find most any configuration with these three manufacturers. The majority of the units available today are sit-down type in a two or three passenger configuration. A myriad of options are available including a reverse function, boarding ladder, adjustable trim, cruise control, adjustable suspension and a braking system. Sea Doo currently is the only brand offering the braking system and the suspension models and as a brand, tend to be more tech oriented. Yamaha, on the other hand, lean to the more straight forward side and are preferred by rental operations. Both companies offer machines capable of over 70 MPH, with even the basic models reaching speeds of 50 plus MPH. Prices range from the mid $8000's to over $17000. All models are now using 4 cycle engines that are cleaner, quieter and easier on the environment than the older 2 stroke versions originally produced. All are very easy to learn and a blast to ride.
Want to find out more? Get down to your local PWC dealer and ask one of the knowledgeable professionals, which model is right for you?
Steve Schumpert
Sun Sports Cycle & Watercraft
3441 Colonial Blvd, Ft Myers, Fl 33966
239-277-7777, 239-333-3530 fax